In the deep blue depths of the ocean world of Okeanys, the Tetraskia thrived in their vibrant underwater community. They navigated the complex aquatic landscape with grace and agility, their bright orange bodies and dark black eyes standing out against the swirling currents and colourful coral reefs.
Among these fascinating creatures was a young Tetraskia named Ryla. Ryla was known for her inquisitive nature and unquenchable thirst for knowledge. She spent her days exploring the nooks and crannies of the coral reefs, often venturing beyond the boundaries set by the Tetraskia Elders.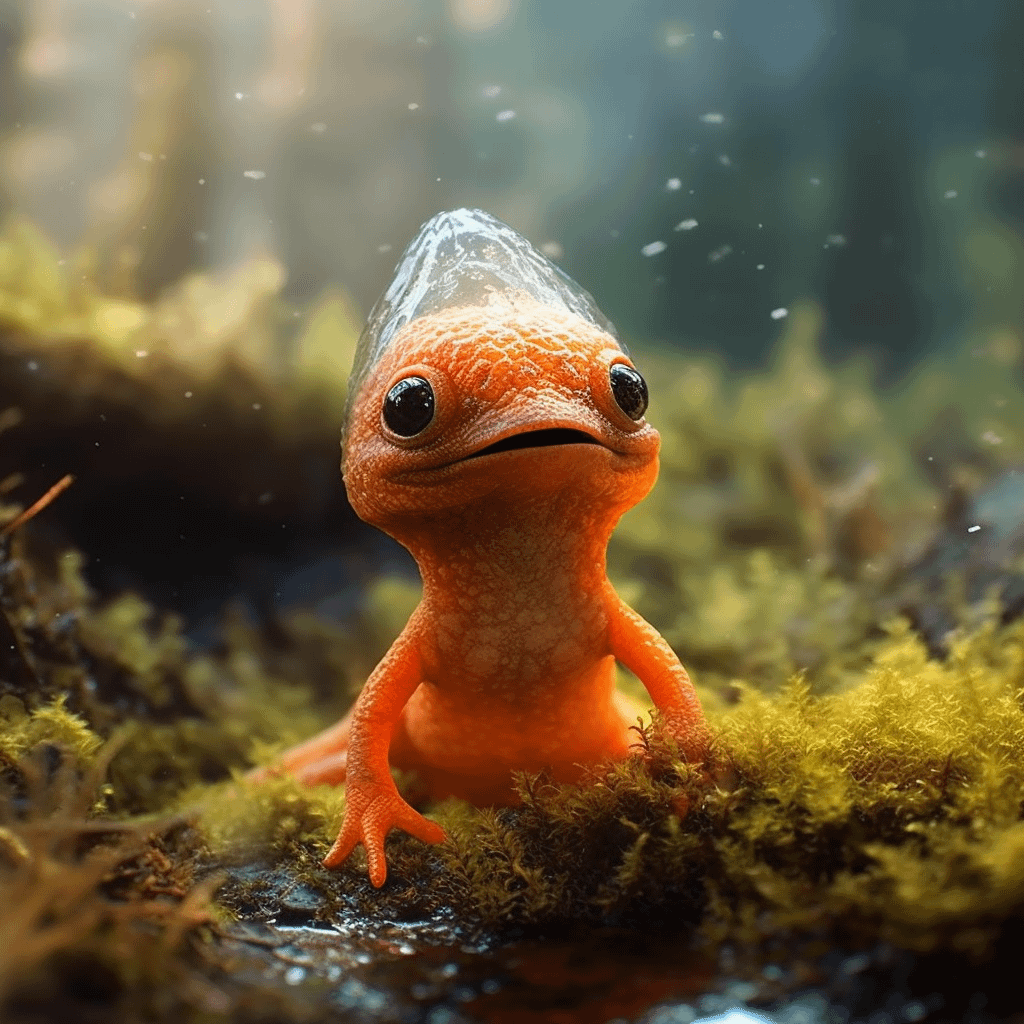 One day, while Ryla was exploring a deep crevice in the ocean floor, she discovered a strange glowing crystal. Intrigued, she decided to bring it back to her underwater home. When she returned, she showed the crystal to her friend Talo, who was equally fascinated by the mysterious object.
As the days passed, Ryla and Talo started to notice that the glowing crystal was having an unexpected effect on Ryla's air-filled chamber, a crucial part of Tetraskia anatomy that allowed them to control their buoyancy. Ryla's chamber seemed to be growing larger and more flexible, enabling her to manipulate its size and shape with ease.
Realizing that she had uncovered a unique ability, Ryla began to experiment with her newfound skill. She discovered that she could use the air in her chamber to create intricate patterns in the water, send powerful jets of air to propel herself at incredible speeds, and even generate complex sound waves that allowed her to communicate with other sea creatures.
As word of Ryla's extraordinary gift spread throughout the Tetraskia community, the Elders took notice. Intrigued by the potential applications of Ryla's abilities, they invited her to demonstrate her skills before the entire community.
The day of the demonstration arrived, and Tetraskia from all corners of the ocean gathered to witness Ryla's performance. With bated breath, they watched as Ryla manipulated the air in her chamber to perform a breathtaking underwater ballet, her body twisting and turning in perfect harmony with the delicate patterns she created in the water.
When her performance was over, the Tetraskia broke into a chorus of clicks and whistles, their applause reverberating through the ocean depths. The Elders approached Ryla, their eyes filled with wonder and admiration.
"We have never seen anything like this before," said Elder Lona, her voice filled with awe. "Your gift is truly extraordinary, Ryla."
In the days and weeks that followed, Ryla continued to explore the limits of her newfound ability, eagerly sharing her discoveries with her fellow Tetraskia. With her help, they began to unlock new possibilities for their underwater community, from improved communication to innovative ways to navigate their aquatic world.
As Ryla's skills continued to grow, she became a symbol of hope and inspiration for the Tetraskia. They began to see her as a reminder that even in the deepest, darkest depths of the ocean, there was always the potential for something new and extraordinary to emerge.
And so, the legend of the Bubble Whisperer was born, a tale that would be passed down through generations of Tetraskia, a testament to the power of curiosity, perseverance, and the unbreakable bonds of their underwater community.